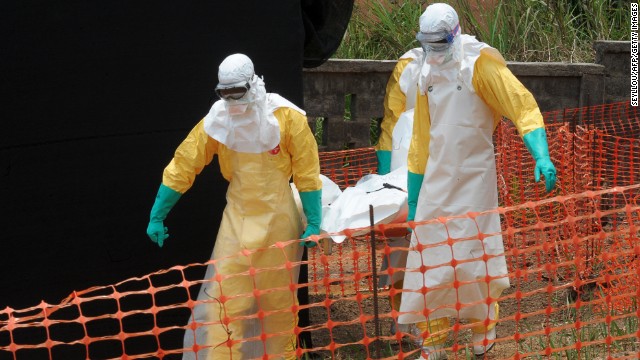 Between 550,000 and 1.4m would be infected with the Ebola virus by January 20, 2015.
Financial Times
Javier Blas – Africa Editor
The deadly Ebola virus could infect up to 1.4m people in west Africa by January, according to a new US projection that is the most apocalyptic yet for an outbreak that has so far confounded international efforts to tackle it.
The US Centers for Disease Control and Prevention (CDC) said in a report published yesterday its worst case scenario for the outbreak was that between 550,000 and 1.4m would be infected with the Ebola virus by January 20, 2015.
"If conditions continue without scale-up of interventions, cases will continue to double approximately every 20 days, and the number of cases in west Africa will rapidly reach extraordinary levels," the CDC report stated.
Tom Frieden, director of the CDC in Atlanta, said it was still possible to reverse the epidemic, but only "if a sufficient number of all patients are effectively isolated, either in Ebola treatment units or in other settings, such as community-based or home care".
The report by US authorities came as a group of scientists published a study in The New England Journal of Medicine warning that the Ebola outbreak was "unprecedented in scale" and urging greater international effort to tackle it.
The scientific report, authored by experts from the WHO and Imperial College London, suggests the international community is still playing down the size of the outbreak, as non-governmental organisations have warned.
Médecins Sans Frontières, which has a long history of battling Ebola in Africa, has been warning for months that the outbreak is out of control. The US and several other countries have responded by offering aid, including the deployment of military units into the region. But experts believe far more is needed.
The outbreak has focused attention on how little progress has been made on tackling Ebola since it was first identified 38 years ago in a patient in Zaire, now the Democratic Republic of Congo. Since then, the haemorrhagic fever has become notorious for its gruesome symptoms, including vomiting, diarrhoea and internal and external bleeding.
Ebola has a fatality rate of up to 90 per cent and there is no cure. The current outbreak has a fatality rate of about 50 per cent. The WHO said on Monday that the death toll had reached 2,803, with 5,843 infected. "The current epidemic of [Ebola] is far larger than all previous epidemics combined," the researchers said.
The outbreak started in December in a remote forest region of Guinea and has expanded into Sierra Leone and Libera. Nigeria and Senegal have suffered a few cases, but authorities believe the situation there is largely contained. More than half the deaths have occurred in Liberia. Guinea, Sierra Leone and Liberia are battling the disease with few resources, and at least 151 healthcare workers have been killed by the virus. The researchers said the 600 or so beds available for Ebola patients in the three most affected nations were lower than the number of cases – nearly 1,000 – emerging each week.
Barack Obama, US president, said earlier this month that the international community needed to act quickly to fight the outbreak