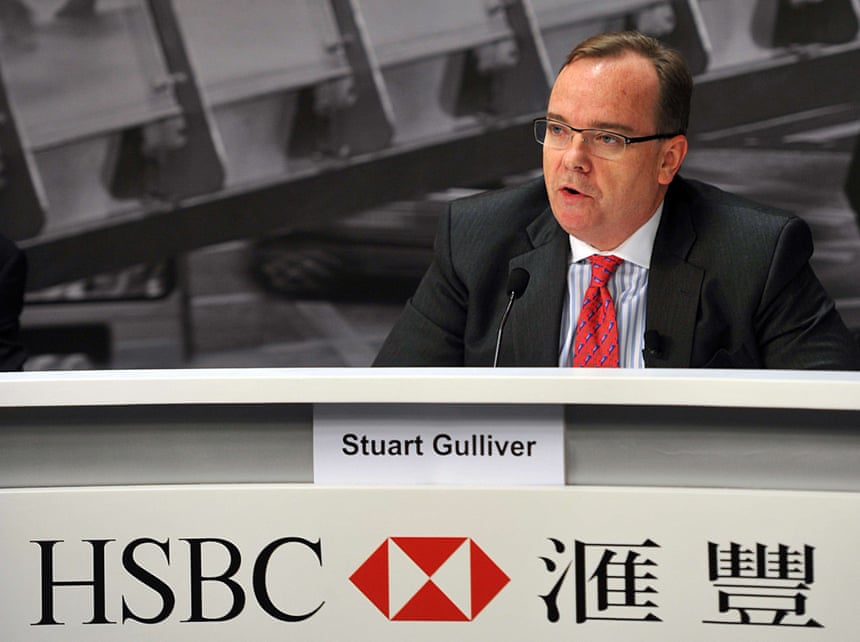 The bosses of
HSBC
have admitted they were shamed and humbled by the tax avoidance activities of the group's Swiss banking arm as the bank revealed its chief executive, Stuart Gulliver, received £7.6m in pay and bonuses last year.
Gulliver, speaking for the first time since the Guardian and other news outlets published a series of revelations about HSBC's Swiss operations, offered his "sincerest apologies" but was defiant about the account he had with the bank in Geneva
which sheltered millions of pounds in a Swiss account through a Panamanian company
. The 55-year-old who became chief executive in 2011, was born in Britain but is tax domiciled in Hong Kong, where the bank has major operations.
Europe's biggest bank published results showing a 17% fall in profits to $18.7bn (£12.2bn) as the investment banking arm slumped and $1.2bn of fines and other conduct issues hit the bottom line.
To justify his tax status, Gulliver said: "I would expect to die abroad."Gulliverleft the UK in 1980 and came back for postings with the bank in 2003.
He admitted the bank was shamed by the events at its Swiss bank and hit out at the idea he should know what every one of the firm's 257,000 employees were doing. He asserted that the bank was being held to a higher standard of account than the church and armed forces.
"I would say that a number of us, myself included, think that the practices at the Swiss private bank in the past are a source of shame and reputational damage to HSBC. Yes, I think shame is an appropriate noun," said Gulliver.
"One of the largest impacts has been on morale inside HSBC. All of us are subject to scrutiny from our families, our friends and people we meet generally in our everyday lives. It makes people embarrassed at HSBC and concerned," he added.
Chairman Douglas Flint, who has been with the bank since 1995, said it was "totally humbling".
The results, along with a relaxing of its target to provide returns to shareholders, knocked 5% off the share price of Europe's biggest bank and made it the biggest faller on the stock market.
HSBC revealed that 1,178 of its top staff were paid at least €1m (£738,000) last year – it was 330 under a different measure the previous year – and Flint said it would be inappropriate for Gulliver's pay to be docked to reflect the Swiss bank revelations. His £7.6m compares with £8m in 2013 and had been cut by £500,000 last year because of fines for foreign exchange rigging and other regulatory matters.
The bonus payouts angered trade unions and politicians. The TUC general secretary, Frances O'Grady, said: "It is hard to see why HSBC is paying bonuses at a time when their role in tax evasion and avoidance has become so controversial."
Cathy Jamieson, a shadow treasury minister who called for a bonus tax and wants George Osborne to answer questions on the matter, said: "People will be astounded that bonuses of this size are still being paid out after the revelations of the last few days."
Gulliver said it was no coincidence that Swiss breaches coincided with money laundering through
HSBC's Mexican bank in the mid-2000s
, for which the US has fined the bank £1bn. Gulliver, who used to run the investment bank, said HSBC had grown too large and that its management lost control of the business during the financial crisis. The bank had 35,000 employees when he joined in 1980 and by 2007 the number had grown to 330,000. "We diluted the culture while management were concentrating on trying to get through the financial crisis," said Gulliver.
He defended his use of a Swiss bank account saying that in the 1980s accounts were free to access on the bank's dealing floor in Hong Kong where he was based. The highest-paid employee, he used a Swiss account to hide his bonuses from colleagues and then used a Panama structure to hide the details from Swiss colleagues. He did not answer when asked if he still had a Swiss account and did not know whether colleagues were still paid through Panama.
"I have never paid less than the maximum UK marginal tax rate," said Gulliver.
"There is absolutely no story here," said Flint of the chief executive's bank account. "There is nothing that Stuart has done that is not absolutely transparent, legal and appropriate."
Flint also apologised: "We deeply regret and apologise for the conduct and compliance failures highlighted which were in contravention of our own policies as well as expectations of us. Flint, who is giving evidence to the Treasury select committee of MPs on Wednesday, said the business had been overhauled and the Swiss bank customer base shrunk by one third from their size in 2007.
In its annual report published on Monday, HSBC listed investigations into the Swiss affair by tax administration, regulatory and law enforcement authorities around the world, including in Belgium, France, Argentina,
Switzerland
and India. It warned more could follow and that there "is a high degree of uncertainty as to the terms on which they will be resolved and the timing of such resolutions, including the amounts of fines, penalties and/or forfeitures imposed on HSBC, which could be significant".
"In light of the recent media attention regarding these matters, it is possible that other tax administration, regulatory or law enforcement authorities will also initiate or enlarge similar investigations or regulatory proceedings," the bank said. There has been no contact from the UK authorities since the latest revelations.
Details of HSBC's Switzerland activities were obtained by Herve Falciani, a former employee of the bank in 2008, and relate to the period 2005 to 2007. Since being published by the International Consortium of Investigative Journalists – which has collaborated with the Guardian and other media outlets in publishing the leaks, including Le Monde and BBC Panorama – they have unleashed a political storm in the UK.
The bank said Sir Simon Robertson, the former Goldman Sachs banker, had agreed to stay on the board for another year as deputy chairman instead of leaving as his nine year tenure – a typical timeframe as a non-executive – had been reached. He said that the £1.5m base salary of Flint was being reviewed.
Robertson, who chairs the bank's remuneration committee, said: "The number and volume of regulatory changes that have been and are being proposed in connection with remuneration are, in the Committee's view, excessive and are hindering our ability to communicate with any certainty to our current employees and potential employees the remuneration policies and structures that would apply to them."
A year ago, HSBC had said Gulliver would get a £1.7m annual allowance on top of his £1.2m salary and other bonuses. The allowance is being used by HSBC and other banks to sidestep the EU's bonus cap, which limits bonuses to one times salary or two-times if shareholders approve.
Flint also urged the UK to say in the EU. "One economic uncertainty stands out for a major financial institution headquartered in the UK, that of continuing UK membership of the EU. Today, we publish a major research study which concludes that working to complete the single market in services and reforming the EU to make it more competitive are far less risky than going it alone, given the importance of EU markets to British trade," he said.
Original Link http://www.theguardian.com/business/2015/feb/23/hsbc-chief-paid-7m-pounds-last-year-profits-slide-tax-avoidance-apology#img-1